Visit DYSTEN at Railtex/Infrarail in London
Dysten will take part in Railtex/Infrarail, taking place on 10th-12th May 2022 in Olympia London, UK. We cordially invite you to visit our stand number C47 from 10:00 to 17:00, and on the last day of the event (12th May) until 16:00.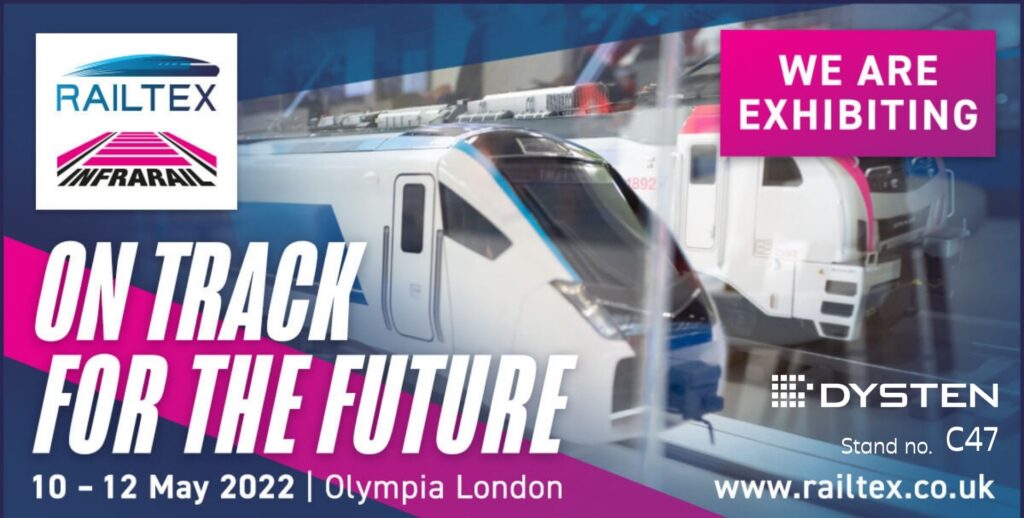 Dysten specializes in the design and production of modern electronic solutions for the railway industry. Currently, 80 stations and railway stops are equipped with the Passenger Information System provided by our company. We have completed one of the largest tenders for the Dynamic Passenger Information System in Europe. We belong to The Polish Chamber of Railway Equipment Producers and Railway Service Providers, associating renowned business entities creating solutions for the railway industry. Due to obtaining the International Railway Industry Standard (IRIS), our products are also very popular on foreign markets. Participation in the Railtex/Infrarail fair will be a great opportunity to get acquainted with the offer of devices manufactured by us and establish cooperation.
About the Event
Railtex/Infrarail is an opportunity to showcase the products and services offered by companies serving all aspects of the infrastructure and rolling stock sector. It is also a chance to meet new and existing customers, business partners and be part of the leading railway exhibition of the year.
The event is a presentation of manufacturers specializing in the fields of rolling stock technology, track and infrastructure, signaling and communication, as well as other specialized products necessary for the efficient and safe operation of railway systems and public transport.
A visit to Railtex/Infrarail is an opportunity to interact with railway professionals from all over the world.
Travel information
Railtex/Infrarail takes place at the Olympia London Exhibition Centre in the UK. London has an excellent infrastructure and an efficient transport network that provides easy access for travelers from all over the world.
We encourage you to use public transport – lines number 9, 23, 27, 28, 49, 391 stop in close proximity to the Olympia London Exhibition Centre.
Detailed information and travel directions to the Railtex/Infrarail fair you can found on the organizer's website.
Adress
Olympia Grand
7239 Olympia Way
London W14 8UX United Kingdom
Meet us
Contact us and plan a meeting at the Railtex/Infrarail:
Maciej Lebioda
International Sales Representative
e-mail: [email protected]
mobile: +48 881 963 233
Paweł Zemło
Project Manager
e-mail: [email protected]
mobile: +48 532 741 337